Ariel Rubinstein, Tel Aviv University
Design and Programming: Eli Zvuluny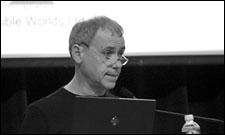 Click to watch the lecture as given in Gerogetown, Novemebr 2003
The lecture includes critical comments on the meaning of Game Theory as well as personal reflections on
Game Theory, the story of John Nash, and the recent film 'A Beautiful Mind'.
In preparation for the lecture, teh audience is asked to spend a few minutes responding to some
"problems" presented at a specially designed page. Some statistics on the results of this exercise
are presented in the lecture (though individual answers will remain confidential).
Lecture Page

(just for demonstration!)

Logo
Country
Date
Poster
Comments
# of responders

total=4510

Beer Sheva Univeristy
Israel
7 May 02
126
Tel Aviv Unviersity
Israel
29 May 02
417
Tilburg Univeristy
Netherlands
20 Nov 02
click
655
Technion, Haifa
Israel
11 Dec 02
177
LSE, London
UK
4 Feb 03
Independent
680
UBC, Vancouver
Canada
18 Sept 03
396
Georgetown, Wahsington
USA
6 Nov 03
The Hoya
420
Sabanci Universty, Istanbul
Turkey
9 Jan 04
click
576
York Universty, Toronto
Canada
29 Jan 04
click
298
UTCC Bangkok
Thailand
22 Feb 06
click
519
Flagler College
USA
6 Oct 06
click
246
University of Connecticut
USA
15 Feb 07
300 +