The growing tree of (AEA) Knowledge (2013-4, "the artist": me)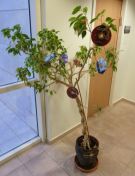 Contracting workers

My Favorite Music these days:

My students on me

My Dear Phd Students: "The Real Me" pdf

Rani Spiegler on me

Me on Rani Spiegler
My favorite meals


Watch on YouTube and change quality to HD.
For better quality click here and wait patiently.

My mottos for economists
(1) "I have not seen any paper in Economics
which deserves more than 15 pages
(probably even 10)".
(2) "A paper in Economics which is not rejected
should not be published".
(3) Q:Candidates for Phd in Econ. ask me:
Why should we study at the Heb U. or NYU
although we were admitted to Harvard?"
IDF
2.2.1969,


I became 2065551.
Me, TAU and Bank Hapoalim

"Parashat Amiram Sivan"

Between Jerusalem and New York
---

Between Berlin and NY

Moments of fame

Hide and Seek: An Episode from Numb3rs
Me the Paparazzi

Zvika Pick

Eli Yishai

Pnina Rosenblum

Haim Revivo

John Ham &
Jennifer Westfeldt